last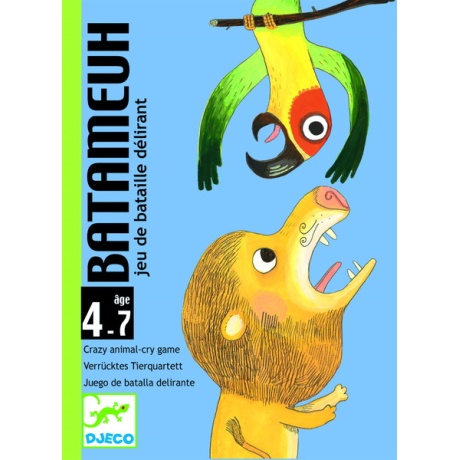 DELIVERY
Free of charge to Estonia parcel machine from 34.90 € and with courier from 99.90 € purchase.
Free of charge to Finland parcel machine from 159.90 € and with courier from 299.90 € purchase.
All over the Tartu town delivery is free of charge from 20€ purchase.
A traditional, fun and colourful card game based on observation and speed. To play this game you need to divide the cards between the number of players, the cards have two different categories: farm animals and wild animals. Every player turns over the top card of their deck at the same time, if a player turns over a farm animal card and see's that another player has turned over a farm animal card then they have to make the sound of the animal on their card. The first one to make the noise wins the other players card and then both cards go to the bottom of their deck. The winner is the player who collects all the cards.Includes 40 cards . A game for 2 to 4 players, lasting about 15 minutes.
| | |
| --- | --- |
| Games by category | observation and speed |
| Players | 2-4 |
| Duration of game | 15 |
| From age | neljandast eluaastast |
| Includes | 40 kaarti |
| Product measures | 8,5 x 11,7 x 2,8 cm |